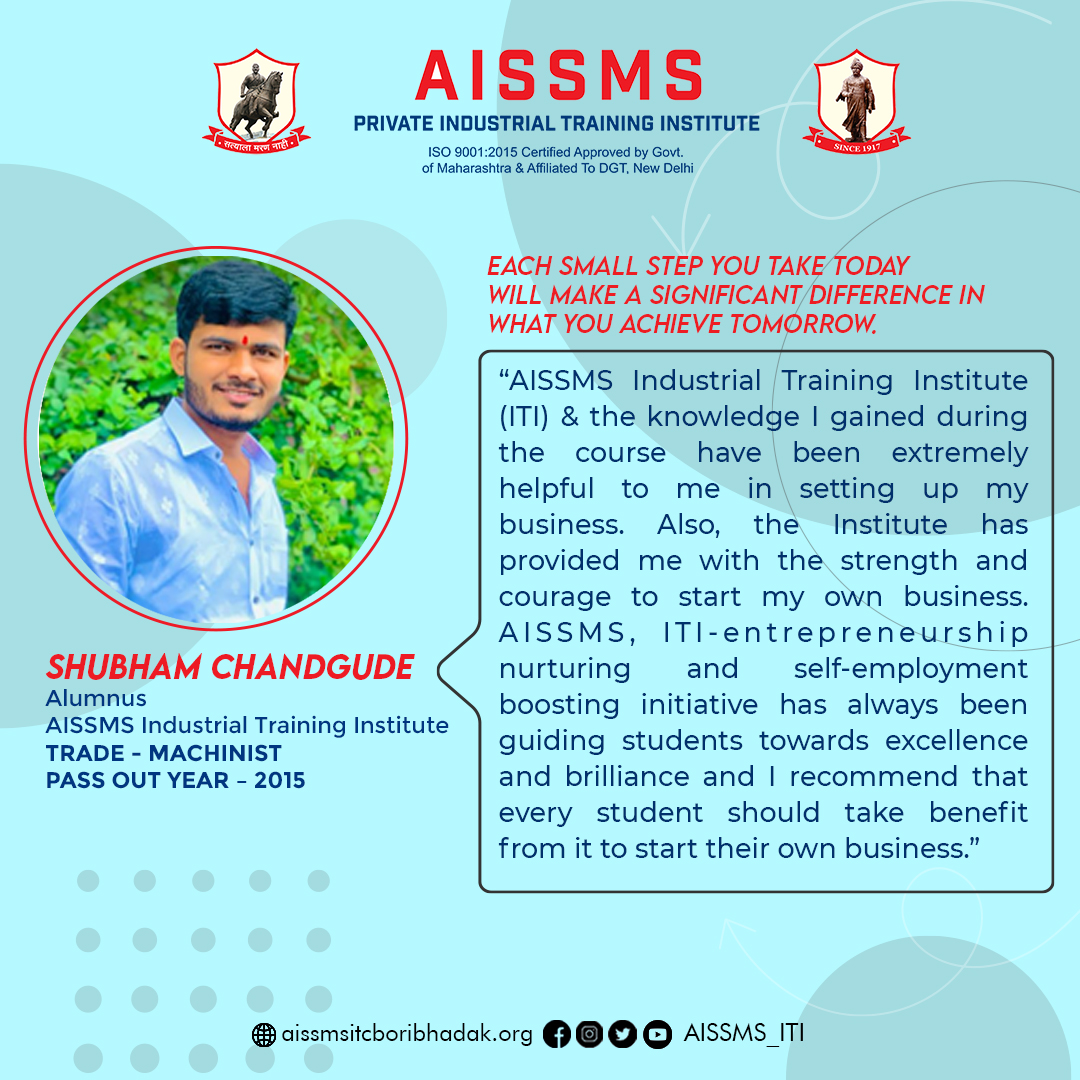 Mr. Shubham Chandgude
Diploma passed out year:2015
Trade - Machinist
Shubham Chandgude shared his fondest memories of being a member of such a prestigious educational institute. He expresses his gratitude toward AISSMS ITI for making an immense contribution toward helping to build his career. He was guided by his teachers in every step of his career and was always prodded for more knowledge. During the course, he received exposure to practical and industry-applied knowledge, which strengthens his own identity.
"Each small step you take today will make a significant difference in what you achieve tomorrow."
Shubham Chandgude is a student from the ITI Machinist trade-2015. He comes from a rural background and has established himself as an entrepreneur by putting his best foot forward. With the comprehensive professional course, ITI has developed, he has learned and honed his skills at a young age, improving his career prospects. During the course, he learned about Designing Skills, Management Skills and Industry Analysis that have proved useful in setting up his workshop.
He was an apprentice at Kalyani Technoforge Karegaon for a year. Later, he started his own workshop in Bhosari, MIDC called Shri Ganesh Engineering. His company is a manufacturer of robotic welding fixtures parts, and he is currently a third party supplier for Bajaj, Patil Automation, Park Robotics and Snehal Engineering.
"The AISSMS Industrial Training Institute (ITI) and the knowledge I gained during the course have been extremely beneficial to the establishment of my business. Also, the Institute has provided me with the strength and courage to start my own business. I encourage the idea of students starting their own businesses and providing support to the institute's initiative to promote self-employment and entrepreneurship."
He expresses his gratitude towards the institute, claiming it is one of the best colleges for developing not only technical but also professional skills. Additionally, he emphasized on the skills he learnt from the facultya at ITI and that the Institute played a key role in his development. Besides, he shared his vision for the future of the business and spoke about his plans to continue expanding the business.